INNOVATION THANKS TO 3D PRINTING
A total modular limb salvage platform, allowing complete freedom to address bone loss in oncology, trauma, infection and failed joint replacements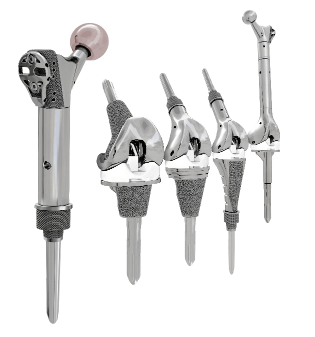 A COMPLETE AND INTEGRATED MODULAR SYSTEM FOR LIMB SALVAGE
The Pantheon® system represents an important innovation in the field of large resection prostheses allowing complete freedom to address bone loss in oncology, trauma, infection and failed joint replacements. The development of the Patheon® system was made possible by Adler Ortho's know-how in additive manufacturing technology and from the collaboration with some of the most important international centres specialized in limb salvage.
The Bridging Collar, the revolutionary heart of the Pantheon® system. The function of the collar is to redistribute stresses onto cortical bone, whilst off-loading the stresses on the stem by creating a biological seal around the joint surface interface. It is an Adler Ortho® patented technology made possible by 3D printing that has two functions:
Increasing significantly implants primary stability thanks to its integrated endosteal cone.
Ensuring optimal secondary stability integrating with the host bone thanks to its 3D monolithic structure with interconnected porosity.