POWDER MANUFACTURING TECHNOLOGY
In 2007 Adler Ortho® was the first company in the world to launch a product, the acetabular cup Fixa Ti-Por®, made using this production system, thus applying 3D printing to the production and serial production of metallic orthopedic devices. We managed to convert the powder production process from a production system designed for prototypes into a powerful method capable of producing implants on an industrial scale
HIGH TECH IN THE WORLD OF ORTHOPEDICS
Adler Ortho® is built on innovation and technology. The company owns a number of exclusive patents and has developed a unique know-how in the production of orthopaedic implants using both 'traditional' manufacturing and the 3D printing technique, in which it is a world leader. We use both electron beam and laser beam additive techniques to produce our implants, always starting from metal powders, which is why we call this process "powder manufacturing technology".
The production units in Cormano and Bari adopt the most advanced technologies in both the field of implant manufacturing and, fundamentally for us, in quality control.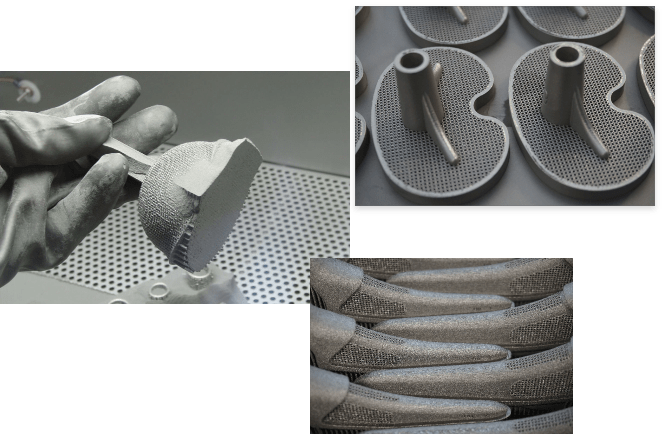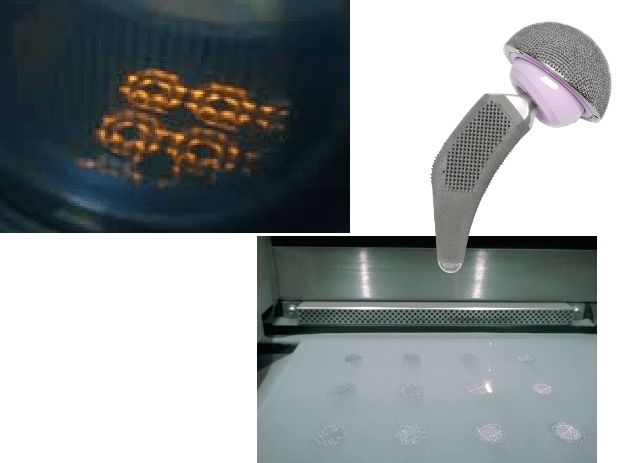 THE ADDITIVE
MANUFACTURING TECHNIQUE
Implants are produced directly from metal powders melted using an electronic or laser beam. Implants are produced starting from the CAD model, without using any physical tool.
The prosthesis is produced layer after layer together with its surface and it is therefore monolithic.
This technology allows for the creation of very complex three-dimensional monolithic metal structures, otherwise impossible to make. It is therefore possible to build not only monolithic custom devices, but also standard cementless prosthesis with 3D extremely rough monobloc surfaces, ideal to maximise the implant primary stability and promote its subsequent osseointegration.
Powder manufactured components implanted since 2007
3D POR, CUSTOM MADE & BRIDGING COLLAR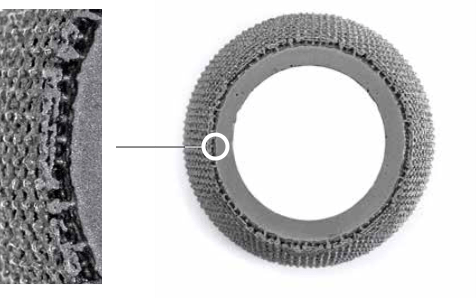 Fixa Ti-Por® acetabular components implanted since 2007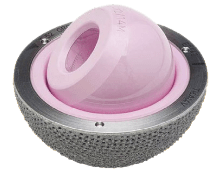 Adler Ortho offers the widest portfolio of 3D printed orthopaedic implants. We produce prosthesis in Titanium as well as CoCrMo alloy.
Our 3D printed implants feature the Ti-Por® Surface.
Ti-Por® is a three-dimensional surface with fully interconnected porosity, resulting in a monolithic construct where the porous surface cannot be detached from its substrate.
Adler Ortho® was the first and remains the only company producing implants made of CoCrMo alloy with additive technique.
The surface obtained by working this alloy is called Co-Por® and is completely analogous to Ti-Por®.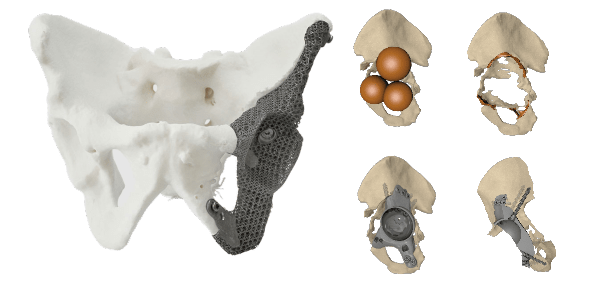 Maximum customization thanks to 3D printing
Adler Ortho® is also a leader in the field of custom made prostheses.
Additive technology allows the design of customized implants gathered from patient's CT scans and if needed also from MRI. These prostheses are normally used for particular applications such as the reconstruction of bone segments in cancer patients, or to compensate for bone loss caused by septic or aseptic loosening of orthopedic prostheses. 3D printing allows us to provide for each prosthesis a specifically designed instrument set for each implant and case to deal with.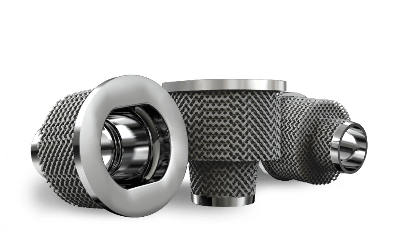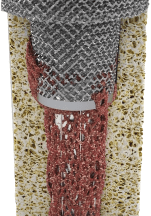 The Bridging Collar is the heart of the Pantheon® system. It is an Adler Ortho® patented technology made possible by 3D printing that has two functions:
It greatly increases the primary stability of implants thanks to its integrated endosteal cone.
It ensures optimal secondary stability by integrating with the host bone, thanks to its 3D monolithic structure with interconnected porosity.
(1) F. Castagnini And Others (2018).
Highly Porous Titanium Cup In Cementless Total Hip Arthroplasty:
Registry Results At Eight Years. International Orthopaedics.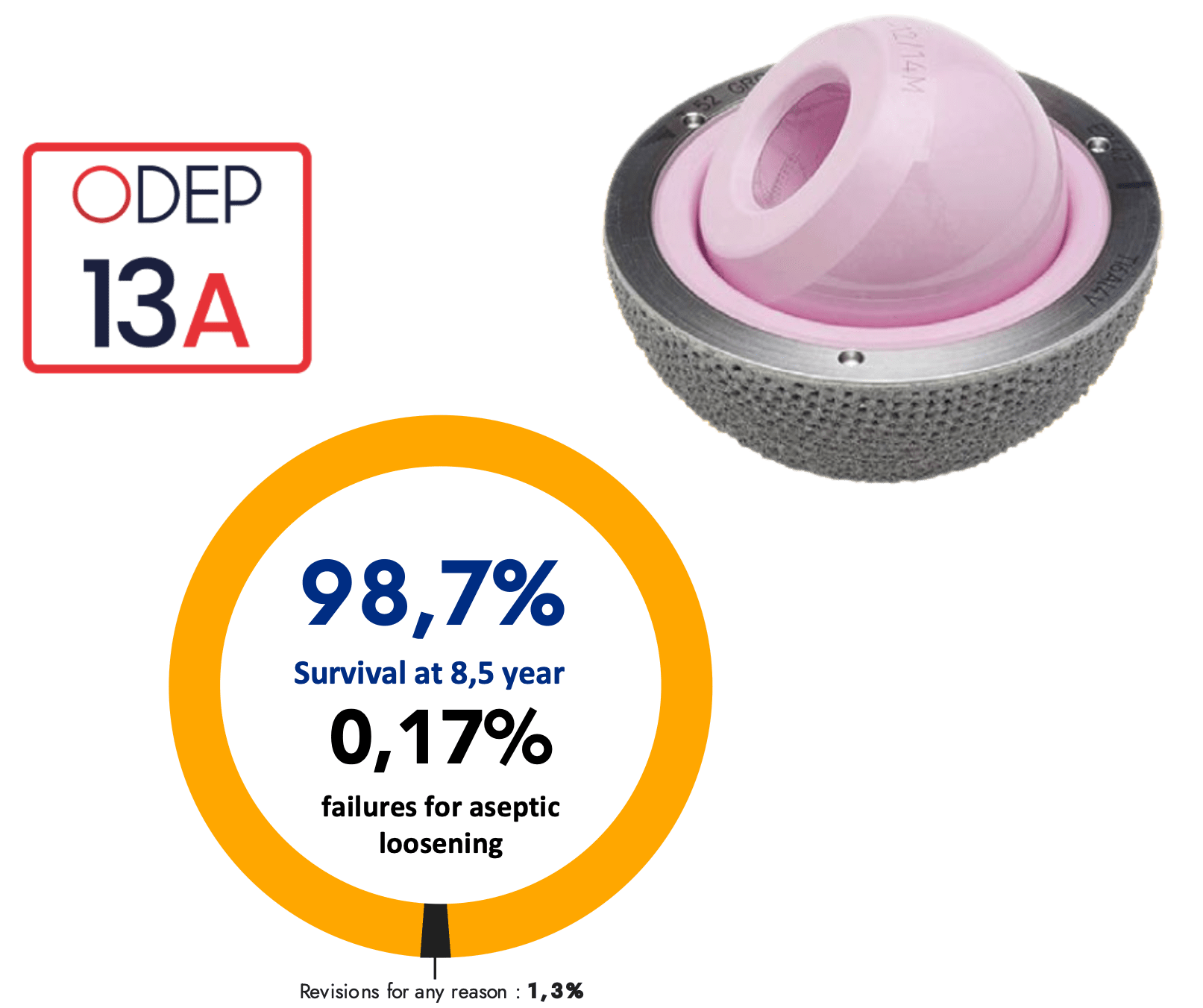 The Fixa ti-Por® cup was launched in 2007 and it was the first standard orthopaedic implant produced with 3D printing technology ever implanted.
The Fixa Ti-Por® cup owns an ODEP 13A rating.
Survival data on a cohort of 9,864 Fixa Ti-Por® cups compared with other press-fit cups (26,925 implants) included in the RIPO Joint Registery(1).
Conclusion
"The use of a highly porous titanium cup, as Fixa Ti-Por®, seems effective when compared to currently adopted cups, with a notable reduction of revisions due to aseptic loosening."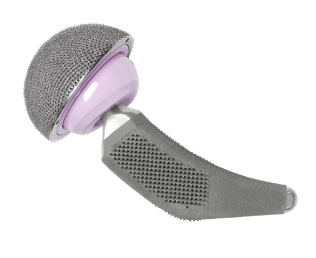 The Parva Hip Stem was launched in 2009, and it was the first 3D-printed stem on the market.
A survival rate of 99.3% at 5 years on a cohort of 152 consecutive implants (146 patients) with an average follow-up of 56 months (Min. 42 months; Max. 73 months). The only revision reported was due to periprosthetic fracture. Survival rate for aseptic loosening was 100% at 5 years. (2)
(2) Schiraldi M., Bondi M., Renzi Brivio L. Femoral Neck Preservation With A Short Hip Stem Produced With Powder Manufacturing: Mid-Term Results Of A Consecutive Case Series. Eur J Orthop Surg Traumatol. 2019 May;29(4):801-806. Doi: 10.1007/S00590-019-02381-Y. Epub 2019 Jan 28.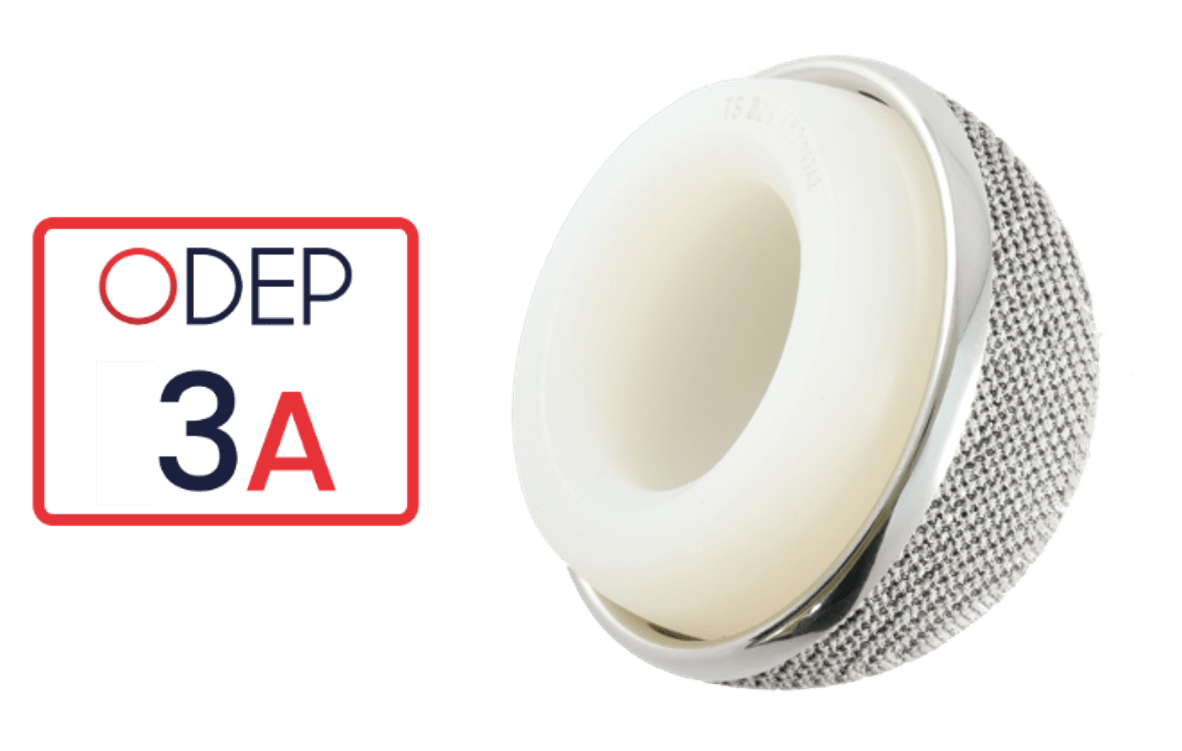 FIXA DUPLEX DUAL MOBILITY CUP
Launched in 2015 it was the first 3D printed dual mobility implant, made of CoCrMo alloy on the market.
100% Survival rate at 3 years (3)
(3) Data coming from the UK National Joint Registry and available at Adle Ortho®