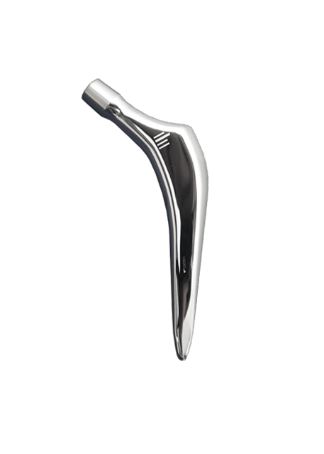 The state-of-the-art cemented stem
Straight collarless cemented stem.
The stem body is continuously tapered both on the frontal plane and on the lateral one, with a trapezoidal section and rounded corners.
The implant features a reduced length to be more compatible with the less invasive surgical approaches.
Stems have 4 marks on the base of the neck to control the stem sinking inside the cement mantle and accurately reconstruct patients' anatomy..
Made of forged Stainless Steel with a mirror polished surface.
SIZES AND SURGICAL TECHNIQUE
Available In 5 progressively growing sizes.
The instrument set allows a precise control of the cement mantle thickness that's never lower than 1mm.
On demand are available instruments designed for less invasive surgical approaches such as the DAA (Direct Anterior Approach).